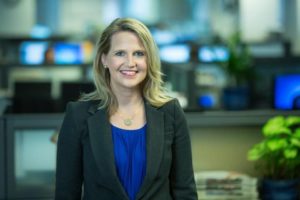 Colleen Nelson, Editorial Page Editor of the KC Star spoke at our April 13th luncheon. Colleen is a Pulitzer Prize-winning journalist and a former political reporter who has chronicled three presidential campaigns. She joined The Kansas City Star in December 2016 after working as a White House correspondent for The Wall Street Journal and as an editorial writer and columnist for The Dallas Morning News.
Attendees at our luncheon enjoyed many stories that Ms. Nelson had to share including one while covering the Clinton and Trump campaign. According to Ms. Nelson, she was covering a topic and had talked to the Clinton staff to get their take on the topic. She reached out to the Trump staff and did not hear back. That night when she was writing her article, her phone rang with an unlisted number. 
She answered and Donald Trump was on the phone calling to give his spin…and when he said he needed to go, she knew he really meant it when she saw on tv him entering a campaign stage to speak right after they hung up.