FESTIVAL TICKETS ARE NOW ON SALE!
Deadline to purchase tickets is Wed, Sept 27.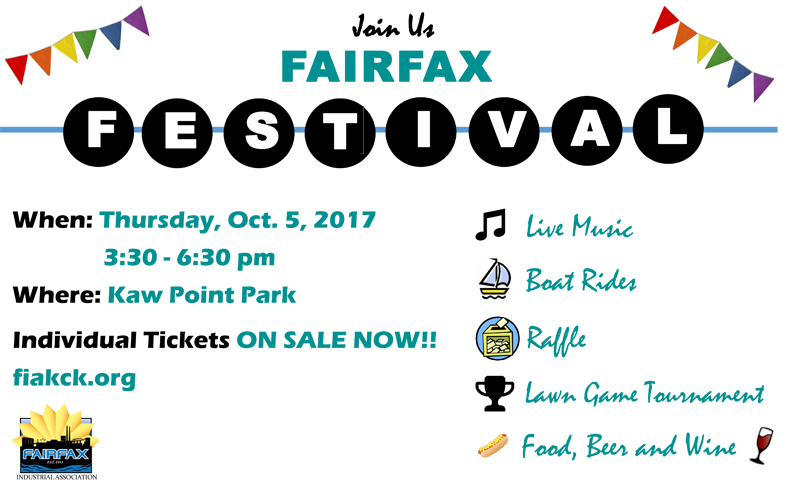 Purchase Tickets Here
Includes food, beer, wine, water, one raffle ticket, live music and lots of fun!

Multiple time slots available.
THANK YOU TO OUR FESTIVAL SPONSORS!
WE WOULD NOT BE ABE TO PUT ON THE EVENT WE ARE WITHOUT YOUR SUPPORT!
FAIRFAX PLATINUM
$1000.00 Donation
ACE PIPELINE CLEANING
BLACK & MCDONALD
BLACKJACK TIRE SUPPLIES
BLUE HAT CRANE
GENERAL MOTORS
KCK COMMUNITY COLLEGE
NORTH KANSAS CITY HOSPITAL
NORTHPOINT DEVELOPMENT
REDDI SERVICES
UNION PACIFIC
FAIRFAX LIMITED
$750.00 Donation
BAADER LINCO – Cookout Tent
BLACKJACK TIRE SUPPIES – Lawn Game Tourney
CERTAINTEED – Band
LIPPERT MECHANICAL – Beer & Wine Garden
FAIRFAX GOLD
$500.00 Donation
ALFRED BENESCH & COMPANY
ARGOSY CASINO
BOULEVARD BREWERY
BPU
CAPITAL ELECTRIC
CENTRAL SOLUTIONS
CINTAS
COMPREHENSIVE LOGISTICS
COUNTRY CLUB BANK
ERGONARMOR
FAIRFAX DRAINAGE DISTRICT
KANSAS GAS SERVICE
KISSICK CONSTRUCTION
FAIRFAX SILVER
$250.00 Donation
CE DISTRIBUTION
CITIZENS BANK
DESIGN MECHANICAL
EXCEL LINEN
FIRST NATIONAL BANK
IHD
INDUSTRIAL LUMBER
IXT, INC
KCK CHAMBER
KELLOGG'S
KRAFT TANK
METROPOLITAN COMM COLLEGE
MUTUAL OF OMAHA BANK
NATIONAL FIBER SUPPLY
NEFF PACKAGING
OWENS CORNING
PHOENIX METALS
RCS MILLWORK
WYEDC
FAIRFAX BRONZE
$100.00 Donation
AMERICAN EQUIPMENT
B-25 BOMBER PROJECT
DAVID ALVEY
ENTERPRISE BANK & TRUST
ENVIRONMENTAL WORKS
FAGAN COMPANY
KC ABRASIVE
KC FAIRFAX FED CREDIT UNION
KRIZ DAVIS
UNITED WAY OF WYANDOTTE COUNTY
Questions? Contact Melissa Clark, FIA Executive Director, 913-915-2327
email: execdir@fiakck.org