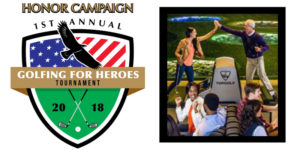 In honor of supporting the KCKPD Honor Campaign, FIA has raised $5,275. The Honor campaign is raising funds to place three (3) Tribute Stone monuments for our KCKPD fallen heroes: Detective Brad Lancaster, Captain Robert "Dave" Melton and 18 Heroes killed in the line of duty prior to 2016 in front of City Hall. Each of the TributeStones cost $10,000 to build, create the audio media, and install. Click here for more info.

THANK YOU for donating!
American Equipment Company
Board of Public Utilities
CE Distribution, Inc.
Central Solutions
Fairfax Drainage District
Industrial Lumber
KC Abrasive Company
Reardon Pallet
Surface Finishing Company
The Vaught Group
"It does make a statement to a businesses level of commitment to a community when they take resources and direct them over to fund things like the TributeStone." – Terry Zeigler, Chief of Police, Kansas City, Kansas

Message from Chief Ziegler

FIA will have two (2) Premier Bays at the "Golfing for Heroes" event at Top Golf Overland Park, KS on Sunday, April 22 from 4pm – 8pm. Click here for calendar event
Questions? Contact Melissa Clark, FIA Executive Director at execdir@fiakck.org. You can also post a comment below.