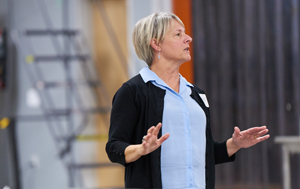 On September 12th, we had our monthly luncheon with Teresa Hamilton from Giving the Basics.
With donor support, Giving the Basics provides the necessities of life, not covered by government assistance programs, that most people take for granted such as laundry soap, shampoo, deodorant, toilet paper and other personal care hygiene products.
Teresa Hamilton, Executive Director of Giving the Basics, shared some insight into this wonderful organization and provided a guided tour for attendees. This also served as an official kick-off for a collaborative donation drive in the Fairfax district. We also encourage all businesses to take part in a Dignity Drive. This is a great way to give back to your community at your place of business. Click here to learn more. Mayor David Alvey also joined Teresa in this group presentation.
Special thanks to Kansas Gas for sponsoring the luncheon, Mayor David Alvey and Giving the Basics for being an exceptional host and community partner.

Photo Gallery
Luncheon Video


Video Sponsor
This month's video sponsor was Capital Electric. To learn more about becoming a video sponsor, click here.