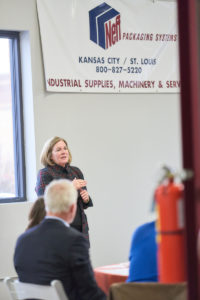 On November 13th, we had our monthly luncheon with Esther George, President and CEO of the Federal Reserve Bank of Kansas City.
As CEO of the Kansas City Fed, Esther George leads a workforce of more than 1,600 employees located at the Bank's Kansas City office and Branch offices in Denver, Oklahoma City and Omaha. The Kansas City Fed oversees seven states: western Missouri, Kansas, Nebraska, Oklahoma, Colorado, Wyoming and northern New Mexico. Throughout this region, the Kansas City Fed plays a role in national monetary policy, supervises financial institutions and provides payment and financial services to depository institutions and the U.S. Treasury.
She shared the history and some new developments with the Federal Reserve Bank.
Special thanks to Delta Innovative Services for sponsoring this luncheon and Neff Packaging for hosting it.
Photo Gallery
Luncheon Video

Video Sponsor
This month's video sponsor was United Way of Wyandotte County. To learn more about becoming a video sponsor, click here.