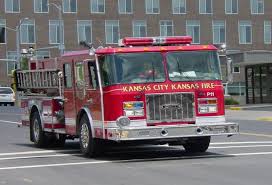 We need to share an important update with you. The Kansas City Kansas Fire Department is advancing a proposal to adjust the Fire / EMS response in the Fairfax Industrial Area (FIA). Under the proposed changes, FIA would continue to be covered by Fire and EMS services within the four-minute guidelines of the National Fire Protection Association, while increasing the total number of personnel responding to incidents.
The Unified Government and KCKFD are committed to providing high-quality, responsive emergency services to Fairfax. The UG is also committed to ensuring that tax dollars are used in the most effective and efficient way possible, so as not to unduly burden residential and commercial taxpayers.
Fire Station #5, located at 910 Quindaro Blvd, Kansas City, Kansas 66101, currently provides the Emergency Medical Service (EMS) response in FIA. Station #5 would continue to provide the EMS transport response to FIA and would become the first responding station for a Fire response in FIA.
What you need to do: If you have any concerns with this proposal, please contact Melissa Clark by Monday, 4/13/2020
Here's the full proposal: