Graphic House out of Lawrence, KS has been chosen to do the design/build of our Fairfax Monument Signage!
Our FIA signage committee voted to first start with having 3 tower signs built and installed with landscaping at 3 entrances in to Fairfax. These entrances the Fairfax Trafficway entrance, K5 entrance and 7th Street Trafficway entrance from the US169 bridge from the Missouri side.  We hope these signs will be installed by or before spring/summer of 2021. Click here to learn more about this project.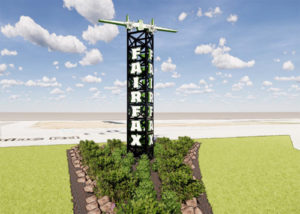 Last year we presented a full design which also included a gateway sign going over the 7th Street entrance from the Missouri side on US 169 bridge, 6 digital signs and another tower sign at 7th Street entrance from downtown KCK.  Currently we have about $400,000 in the special TDD fund that will be paying for this signage.  This fund will continue to receive money over the next several years which will total about $1.3 million.  This TDD could also receive more money if more properties are built in this funding area in the Fairfax District (area that is called Central Industrial District in Fairfax located northwest corner of Kindleberger Road and Fairfax Trafficway).
The 3 tower signs and the design fees paid to Gould Evans will use up the $400k currently in our fund.  Our committee felt it would be most prudent to have part of the signage project built and installed now and not spend fees to bond the rest of the revenue stream so we can use that money towards future signage and projects.
We are very excited to have this signage built and installed!  This will be the first monument signage that the Fairfax District has ever had in its almost 100 years of inception!
Thank you to those working on this committee:
FIA
Carlos Quijas – FIA/BPU
Joe Vaught – FIA/The Vaught Group
John Latenser – FIA/Neff Packaging Systems
Melissa Clark – FIA/CE Distribution, Inc.
Mike Martin – FIA/Capital Electric
Richard Sheldrake – FIA/Mark One Electric
Steve Dailey – FIA/Fairfax Drainage District
Unified Government
Melissa Sieben – Assistant County Administrator
Rob Richardson – Director of Development Coordination and Customer Service Success
And Doug Bach, County Administrator of the UG, for creating this TDD several years ago that has enabled our group to fund this project and more!