Set Up a Collection Drive at your Place of Business
In partnership with Giving the Basics, we are excited to launch this year's Dignity Drive. This is a great way for you to give back to your community at your place of business. Most needed items include bar soap, laundry detergent, toothpaste, deodorant, lotion, toothbrushes, shampoo, feminine products and conditioner.
Let's show our support to those in need! Click here to set up a drive at your business.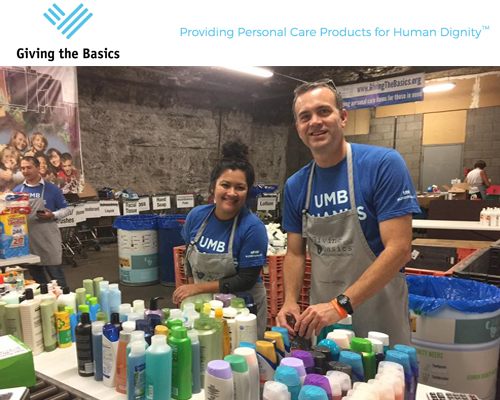 Once you're registered, Giving the Basics will drop off a barrel at your business, making it really easy for anyone to give back to the KC community. Giving the Basics will also track collections from all participating businesses and we will announce the results via email.
Make a Virtual Donation
You can also make a virtual drive donation for select packages by clicking here. Virtual donations are a great way to give back and Giving the Basics can use those funds to purchase 3x the amount of products thru their vendors.
NOTE: Make sure that you list your company name and note that you are with the FAIRFAX group. This will help in the tracking of your donations or participation in the drive.
Get Inspired
Your support makes it possible to eliminate humiliation, promote learning and offer hope. When you embrace Giving the Basics, you embrace human dignity for all people. Get inspired with these powerful stories that show how your support is making a difference in the lives of people in the KC area.
Thank you all for your generous spirit! Feel free to post a comment below.