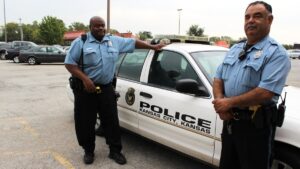 Maintaining our commitment to safety and keeping you informed, we would like to share some recent incidents in the district.
March 19th: Fairfax had another street car racing incident on Sunday, March 19th. There were about 150 vehicles and 300 people total at 230 Kindleberger. The KCKPD used stop sticks and disabled about 20 vehicles (those involved in street racing), issued tickets and made one gun arrest. There continues to be personal vehicle break-ins, please make sure to keep any valuables out of your cars and lock your doors.
April 4th: Reported shooting in the district as three KCKPD officers were shot during an operation aimed at taking the deadly drug, fentanyl, off our streets. All three officers remain hospitalized with serious, but non-life-threatening injuries. The three suspects also remain hospitalized and are expected to recover. FIA asks our Fairfax community to please keep the KCK Police Officers and their families and loved ones in your thoughts and prayers. We appreciate their sacrifice, service and dedication to protect our community.
If you are a resident of KCK and believe that you have information related to illegal drug activity, please reach out to KCKPD and you can remain anonymous by calling the 24-hour narcotics hotline at 913-573-6287 or emailing them at narcotics@kckpd.org. Work with us to make our community safer for everyone.