Empire Candle is doing a donation drive on Nov 19, 2022! Please share with your employees!
The perfect way to give back to those in need in our community, Empire Candle Co., LLC will be having their 2nd annual donation drive on November 19, 2022. Collected items include non-perishable food items, hygiene products, warm clothing (coats, hats, gloves, etc.), and new, unwrapped toys valued at $10. 
Through strong partnerships with Heartland 180, Avenue of Life, and Michael Bergen's Hands to Heart these donations will make their way to families in our area who need them most!  Out of 104 counties in Kansas, Wyandotte ranks 104th in overall health, quality of life, health factors, and socio-economic factors. This fundraiser will be a great way for those of us who have been so fortunate to give back to our friends and neighbors They will also have some fun activities, including special guests, live DJ, delicious food trucks and much more!
This event is open to the public and everyone is welcome to swing by and drop-off their items between 10:00am until 4:00pm.  You can also volunteer or donate monetarily at https://www.heartland180.org/donate or https://www.avenueoflife.org/donate.html. Make sure that you specify #EmireCares when donating or sharing on social media.
In return for your generous donation, they will be handing out a free surprise candle (while supplies last) plus a promo code that can be used on their e-commerce site, Tuscanycandle.com.  
Let's work together to strengthen that critical community connection!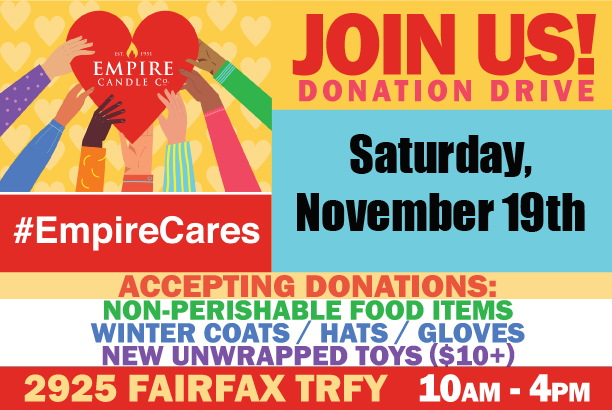 We will also be collecting donations at our November luncheon and they have identified the following items to donate:
Coats and cold weather clothing for babies to age 5
Headphones
Phone chargers
Nerf Guns
Make up
Kids Lotion
Oversized hoodies
Coats for older kids
Diapers – newborn, Pull-Ups
Baby Wipes
Baby bottles
Pacifiers
Simple can openers
Socks (New – All Sizes)
Underwear (New – All Sizes)
For more details or additional information, please contact:
Eric Welsh
Environmental, Health and Safety Manager
Empire Candle Co., LLC
ewelsh@empirecandle.com
(913) 282-9667