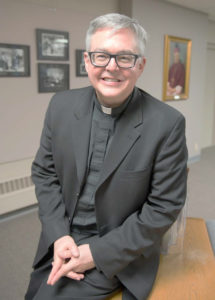 Speaker: Msgr. Stuart Swetland, President of Donnelly College
Topic: Donnelly College and it's unique role for higher education in Wyandotte County and the metro area.
Host & Sponsor and Location: Central Solutions / 401 Funston Rd Kansas City, KS 66115
EJ's Urban Eatery will also be sponsoring and providing a special lunch!
RSVP for luncheons: Click here to register.
If you are pre-paid or have questions, please contact Rachel Chambers at Rachel.Chambers@ergon.com
MsgrSwetland_Biography