Speaker: Dave Helling, KC Star
Topic: Dave will share highlights from state and local politics, including election results as well as the direction of the Kansas City Star operating under new ownership. Click here for his bio.
Stay tuned for updates on the FIA site and our social media channels. All participants will be eligible for door prizes in a random drawing.
This virtual event is brought to you by Central Solutions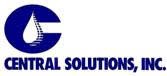 Central Solutions is an EPA & FDA manufacturer of skin care and infection control products, with over 95 years of experience. Visit centralsolutions.com for more.
Interested in sponsoring an event? It's a great way to promote your business at the event with full cross-promotion in email, web and social. Click here to learn more >>