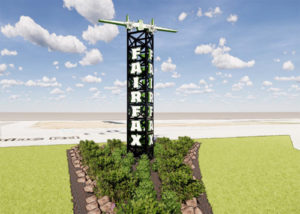 Call For Entry: Do you have what it takes to create a commemorative poster? Now you have the opportunity to flex your artistic chops and design the commemorative poster for this year's Fairfax Festival to be held on October 3rd at Kaw Point Park.
This year, FIA unveiled new monument signage concepts for the Fairfax District which included the B-25 bomber plane. This signage will be at the main entrances to the district. FIA chose the B-25 to be included as it's an iconic image of our history and we hope people will question why a plane is on our signage and begin to learn the vast history and importance of our district. We would like a piece of the signage to be creatively incorporated into the poster this year.
$500 Prize
The winning design will be featured as the official 2019 Commemorative Poster at the FIA Festival, and the artist will win a $500 prize. The design will also be featured on the FIA site and emails as well as shared on social media. Deadline for submissions is July 31, 2019.
To submit your artwork, click on the entry form tab below. There are also specs, information regarding the FIA and previous commemorative posters for your reference. You can also download the artwork by clicking the download icon in the window.
Are you ready? Let's get started and good luck!
NOTE: artwork must have the year 2019 and Fairfax Festival incorporated into the poster.  Artwork must also include a piece or pieces of the new Fairfax signage concept designs.
Questions? Rachel Chambers at rchambers@fiakck.org.