Guest Speakers: Dan Desko: B25 Bomber History Project. We will also have our friends from the Yankee Air Museum including the 2 pilots flying the Rosie's Reply B25 today, participating virtually. All will share the history of the B-25D Bomber, Rosie's Reply, built in Fairfax during World War II that is flying in for our Fairfax Festival.
Topic: For this luncheon, we are excited to have Dan Desko from the B25 Bomber History Project and Yankee Air Museum that owns the B25-D flying in for the Fairfax Festival talk about the history of the B25-D Bomber built in Fairfax.
NOTE: At this time, FIA asks that everyone follow current county mask mandates.
Cost: $25.00 Click here to register to this luncheon.
Location: Strawberry Hill Museum / 720 N Fourth St Kansas City, KS 66115
This is perfect timing as the B25 will be making a special appearance at this year's festival. On October 4th, there will be an exclusive FIA VIP Media Event sponsored by the KCK Chamber of Commerce welcoming the B25-D home to Kansas City at the Charles B. Wheeler Downtown Airport.
Raffle Drawing: Strap in and take a ride on this historical B25-D aircraft built in Fairfax during World War II. One lucky person will win a ticket to join 5 other VIP's on this special VIP flight FIA VIP Media event. Deadline for raffle drawing is 9/7/21. Click here to enter to win.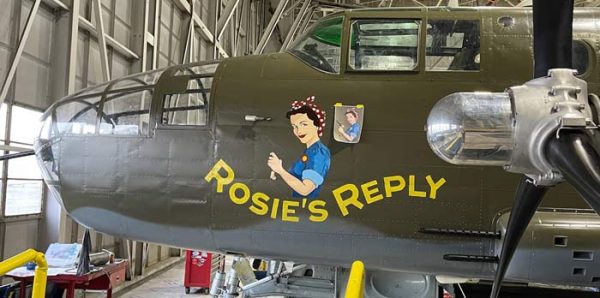 Should you have any questions, please contact Rachel Chambers at rchambers@fiakck.org