2022 was the 100th Anniversary of the Fairfax District!
We celebrated 100 years of Fairfax all year long!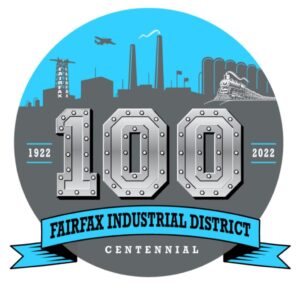 The District was formed in 1922 on a 1,232 acre Industrial Park. In 1939, Guy Stanley and the Union Pacific Railroad Company began actively developing the Fairfax District and soon eight more industries joined. Through the years, the District has grown to house more than 130 companies.
Historical Video
In celebration of this milestone, we hope you enjoy this video and we encourage you to share it with your employees and place of business. It's also a great tool for onboard employee orientations, reminding them of the rich history of our district. Click here to view and share.

Here are some of the highlights of our celebrations for the 100th Anniversary of Fairfax in 2022:
Featured Slideshow: A Year in Review

001_FIA_Luncheon_202208185_EstherGeorge750_8312

002_FIA_Luncheon_202208185_EstherGeorge750_8323

007_FIA_Luncheon_202208185_EstherGeorge750_8329

009_FIA_Luncheon_202208185_EstherGeorge750_8331

013_FIA_Luncheon_202208185_EstherGeorge750_8341

015_FIA_Luncheon_202208185_EstherGeorge750_8346

018_FIA_Luncheon_202208185_EstherGeorge750_8352

020_FIA_Luncheon_202208185_EstherGeorge750_8354

021_FIA_Luncheon_202208185_EstherGeorge750_8357

022_FIA_Luncheon_202208185_EstherGeorge750_8359

023_FIA_Luncheon_202208185_EstherGeorge750_8360

024_FIA_Luncheon_202208185_EstherGeorge750_8361

026_FIA_Luncheon_202208185_EstherGeorge750_8365

029_FIA_Luncheon_202208185_EstherGeorge750_8373

038_FIA_Luncheon_202208185_EstherGeorge750_8393

041_FIA_Luncheon_202208185_EstherGeorge750_8399

059_FIA_Luncheon_202208185_EstherGeorge750_8449

071_FIA_Luncheon_202208185_EstherGeorge750_8477

079_FIA_Luncheon_202208185_EstherGeorge750_8489

081_FIA_Luncheon_202208185_EstherGeorge750_8526

138_FIA_Luncheon_202208185_EstherGeorge750_8673

004_FIA_20220609_TowerRibbonCutting

033_FIA_20220609_TowerRibbonCutting

034_FIA_20220609_TowerRibbonCutting

041_FIA_20220609_TowerRibbonCutting

059_FIA_20220609_TowerRibbonCutting

061_FIA_20220609_TowerRibbonCutting

065_FIA_20220609_TowerRibbonCutting

068_FIA_20220609_TowerRibbonCutting

070_FIA_20220609_TowerRibbonCutting

071_FIA_20220609_TowerRibbonCutting

072_FIA_20220609_TowerRibbonCutting

079_FIA_20220609_TowerRibbonCutting

083_FIA_20220609_TowerRibbonCutting

087_FIA_20220609_TowerRibbonCutting

089_FIA_20220609_TowerRibbonCutting

104_FIA_20220609_TowerRibbonCutting

107_FIA_20220609_TowerRibbonCutting

114_FIA_20220609_TowerRibbonCutting

115_FIA_20220609_TowerRibbonCutting

123_FIA_20220609_TowerRibbonCutting

139_FIA_20220609_TowerRibbonCutting

158_FIA_20220609_TowerRibbonCutting

002_FIA_Luncheon_20220915_FairfaxDistrict100YearHistoryandDisplay

016_FIA_Luncheon_20220915_FairfaxDistrict100YearHistoryandDisplay

018_FIA_Luncheon_20220915_FairfaxDistrict100YearHistoryandDisplay

019_FIA_Luncheon_20220915_FairfaxDistrict100YearHistoryandDisplay

023_FIA_Luncheon_20220915_FairfaxDistrict100YearHistoryandDisplay

024_FIA_Luncheon_20220915_FairfaxDistrict100YearHistoryandDisplay

029_FIA_Luncheon_20220915_FairfaxDistrict100YearHistoryandDisplay

030_FIA_Luncheon_20220915_FairfaxDistrict100YearHistoryandDisplay

031_FIA_Luncheon_20220915_FairfaxDistrict100YearHistoryandDisplay

034_FIA_Luncheon_20220915_FairfaxDistrict100YearHistoryandDisplay

036_FIA_Luncheon_20220915_FairfaxDistrict100YearHistoryandDisplay

038_FIA_Luncheon_20220915_FairfaxDistrict100YearHistoryandDisplay

039_FIA_Luncheon_20220915_FairfaxDistrict100YearHistoryandDisplay

044_FIA_Luncheon_20220915_FairfaxDistrict100YearHistoryandDisplay

045_FIA_Luncheon_20220915_FairfaxDistrict100YearHistoryandDisplay

052_FIA_Luncheon_20220915_FairfaxDistrict100YearHistoryandDisplay

063_FIA_Luncheon_20220915_FairfaxDistrict100YearHistoryandDisplay

066_FIA_Luncheon_20220915_FairfaxDistrict100YearHistoryandDisplay

069_FIA_Luncheon_20220915_FairfaxDistrict100YearHistoryandDisplay

074_FIA_Luncheon_20220915_FairfaxDistrict100YearHistoryandDisplay

076_FIA_Luncheon_20220915_FairfaxDistrict100YearHistoryandDisplay

091_FIA_Luncheon_20220915_FairfaxDistrict100YearHistoryandDisplay

094_FIA_Luncheon_20220915_FairfaxDistrict100YearHistoryandDisplay

096_FIA_Luncheon_20220915_FairfaxDistrict100YearHistoryandDisplay