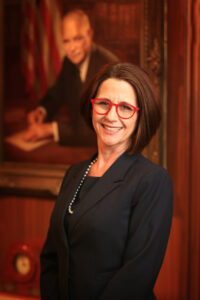 Speaker: Dawn Hammatt is the director of the Eisenhower Presidential Library, Museum, and Boyhood Home in Abilene, Kansas. The Eisenhower Presidential Library is one of 15 presidential libraries operated by the National Archives and Records Administration (NARA). She's been in her current role since 2016. Prior to her career with NARA, she managed the design and fabrication of a new 22,000-square-foot exhibition at the Mississippi Arts and Entertainment Experience. Working in the museum field her entire career predominantly in New Orleans for local, state, and private organizations, Dawn has overseen disaster recovery efforts following two natural disasters. Her work, chiefly in collections management and administration, has always focused on safety and security of the holdings.
Topic: Dawn will provide an overview of the Eisenhower Presidential Library and Museum 22-acre campus with an emphasis on the newly renovated exhibits and Q&A at the end.
Juliann Van Liew, UG Health Director will also give an update on WYCO/KCK Covid vaccinations.
RSVP for this FREE event: Click here to register. If you are pre-paid or have questions, please contact Rachel Chambers at rchambers@fiakck.org