This is for the November, 2022 luncheon that will be held at BPU on 11/10/22.
Date/Time: Thurs, 11/10/22 from 11:15am-12:30pm
Location: BPU / 540 Minnesota Ave, Kansas City, KS 66101
Fee: $35
Topic: Overview and key highlights of the Veterans Community Project.
Guest speaker: Chris Admire, Executive Director (bio is below)
Luncheon Sponsors : Special thanks to BPU and Neff Packaging Systems for sponsoring this luncheon
Veterans Community Project (VCP) is a 501(c)(3) organization founded by a group of combat veterans in Kansas City, Missouri who resolved to stand in the gaps of a broken system that left too many of their brothers and sisters behind. VCP continues to be a one-stop-shop for every type of veteran facing every type of problem. This includes helping them navigate the VA and their benefits, identification services, mental and physical health referrals, financial counseling, and employment supports among other services. In addition, veterans can receive hygiene kits and utilize a food pantry – all free of charge.
In addition, VCP Village is a planned tiny home community designed to get homeless Veterans off the street and transition them to permanent housing. In contrast to traditional homeless services, a tiny home provides the veteran with privacy, a sense of security, and the ability to reintegrate at a comfortable pace. Comprehensive veteran support services are facilitated through an onsite community center that provides the veterans with mentoring, case management, counseling, and linkage to other programs and other services.

Should you have any questions, please contact Rachel Chambers at rchambers@fiakck.org
About the Speaker: Meet Chris Admire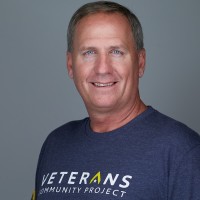 Chris Admire is the Executive Director of Veterans Community Project, a nonprofit organization founded in Kansas City by a group of combat Veterans on a mission to end Veteran homelessness.
Chris has a long history of service to the community, from spending 10 years on the Greenwood, MO Park Board to working with over 500 youth through the Greenwood Sports Association. In 2003, he helped secure funding and managed the building of Freedom Park, a site dedicated to those affected by 9/11.
As the proud son of a U.S. Navy Veteran and brother of a U.S. Marine Corps Veteran, Chris has a relentless passion for serving those who raised a right hand for our country. He first joined Veterans Community Project as a volunteer in 2016 and helped construct the village's first tiny homes. Chris joined Veterans Community Project full time in 2018 as Director of Operations where he has helped the VCP Village grow to 49 tiny houses and continues to lead the development of VCP's residential program and outreach center to provide more critical support services to any Veteran in the Kansas City metro area.
Donation Drive with Empire Candle: 11.19.22
The perfect way to give back to those in need in our community, Empire Candle Co., LLC will be having their 2nd annual donation drive on Saturday, November 19, 2022. We will also be collecting donations at our November luncheon and they have identified the following items to donate:
Coats and cold weather clothing for babies to age 5
Headphones
Phone chargers
Nerf Guns
Make up
Kids Lotion
Oversized hoodies
Coats for older kids
Diapers – newborn, Pull-Ups
Baby Wipes
Baby bottles
Pacifiers
Simple can openers
Socks (New – All Sizes)
Underwear (New – All Sizes)