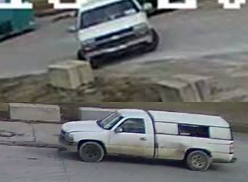 On 03/15/2019 at approximately 4:00 PM, a white truck was captured on surveillance video, stealing stainless sheets from Phoenix Metals Company located at 201 Donovan Road. There is a map below with the area marked out. The suspect vehicle has a very distinct camper shell with a window that appears to be damaged (driver's side).
If the vehicle is seen, please call 911 and attempt to get the tag number if possible.
As an organization that is dedicated to all FIA businesses, we strive to keeping our district safe and clean, while supporting each other. To learn more about best practices and a resource for maintaining your building in the Fairfax District, click here.
Map of area where the incident took place: