This year, United Way of Greater Kansas City it excited to announce Give Your Time on Giving Tuesday. This is a great way to donate your time as a volunteer as they have partnered with select organizations that are making an immediate impact in the greater Kansas City area.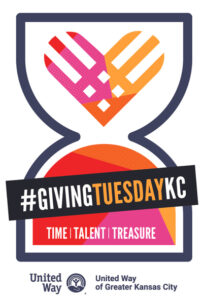 They are also accepting donations, including toilet paper or gas cards to Hope House, one of the organizations that supports victims of domestic violence. Donations can be dropped off at the United Way of Greater Kansas City office (801 W 47th Street, Kansas City, MO 64112; first floor lobby) on Tuesday, November 29 from 9:00am-1:00pm.
Additionally, you can order a meal while supporting United Way during the week of Giving Tuesday. If you're tired of Thanksgiving leftovers, Minksy's Pizza, Eggtc and Tenderloin Grill are donating 20% of purchases on Giving Tuesday to United Way of Greater Kansas City. This applies to online orders, in-restaurant dining and catering orders – all you have to do is mention United Way or use code UW20 when ordering online. We hope you will join us in celebrating the impact we can all make through using our resource of time this Giving Tuesday.
To learn more about taking part in this opportunity, click here.