Whether it's a railroad crossing issue, pothole our defective street light, there are many ways in which you can report these issues so that they get fixed.
To make it easier, we compiled some links for you to take action.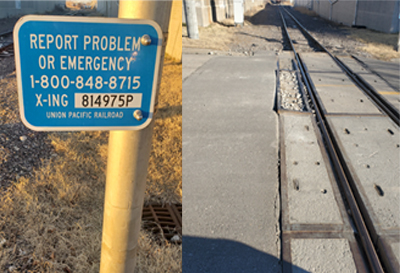 Railroad Crossings:
Make sure to note the crossing number and street location (there is a sign at the crossing identifying the crossing number) and take a picture of the crossing issue – see image to the right
Call 800-845-8715, option 1
Best Option is to report on their website:
https://www.up.com/aboutup/reference/whotocall/index.htm
Pothole/Street Maintenance, Streetlight Issue, Code Violations, Snow Removal:
Note location, streetlights have a number on them to identify, take a picture or two and report it on myWyco mobile App. It's an easy way to report any issues while on the go. Click here to download the app.
Also, email Melissa Clark exedir@fiakck.org to report issues along with your report confirmation info so she can track as well.