When:
October 8, 2020 @ 3:30 pm – 4:30 pm
2020-10-08T15:30:00-05:00
2020-10-08T16:30:00-05:00
Where:
Virtual / Zoom
Kansas City
KS
USA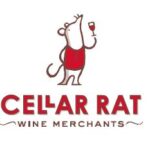 On October 8th, we will have our first Virtual Wine Tour for FIA members. This is a great opportunity for you to connect with others in the FIA community over wine and cheese. For this event, we teamed up with our friends from Cellar Rat Wine Merchants and Kevin Hodge will be doing the wine tour.
As part of this event, we also have two (2) sponsorship opportunities for this event and one (1) video sponsorship available. There will also be door prizes – great way to cap out this fun event!
If you like, you can also join early at 3:15 for some virtual networking.
---

As an exclusive offer, there are special bundles available to FIA members.
Wine Package: $40.40. Click here
– Ca Del Sarto Rose of Pinot Grigio
– Evolucion Furmint Hungary
– Cristia Grenache
– Laya Red Blend
The Bread & Cheese Package: $12.00. Click here
– Piave: hard aged Italian cow's milk cheese named after the Piave River. Piave has a Protected Designation of Origin (DOP) and the only "official" Piave is produced in the Dolomite area of Bellune in the northernmost part of the Veneto region.
– Delice de Cremiers – soft triple cream cow's milk cheese from France from the heart of the Cote de Nuits in Burgundy.
– Tribeca Oven Stirato – square loaf, to heat and crisp up, place in 350-375 oven for 5 to 7 minutes
Chocolate Bundle: $9.00 Click here
TCHO Chocolates – Single varietal squares from Ghana 70%, Madagascar 67% and Peru 68%
NOTE: If you do order any of the above bundles, you will be directed to pick up your package from Cellar Rat Wine Merchants as early as Tuesday 10/6. They are located in the Crossroads Art District at 1701 Baltimore Ave., Kansas City, MO 64108 and are open from 10AM to 7PM.

About Kevin Hodge: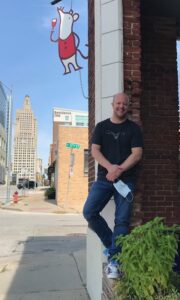 Kevin Hodge and his wife Frances O'Shea have been co-owners of Cellar Rat Wine Merchants since July 30, 2013. Kevin has 25+ years in the food and wine industry with time in all aspects of the business. He loves to cook and is great at pairing food and wine. He has travelled the world extensively in search of new and exciting wine to taste and the elusive Sasquatch. He brings a fun, nonsensical approach to a subject that is often viewed as stuffy and unapproachable.
Click here to learn more about Cellar Rat Wine Merchants.