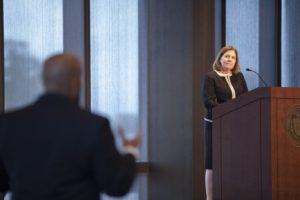 Thank you to Esther George, President & Chief Executive, of the Federal Reserve Bank of Kansas City for inviting members of the Fairfax Industrial Association to attend a very informative luncheon yesterday, Monday, August 7, 2017.
The Federal Reserve Bank of Kansas City hosted an Area Industrial Luncheon where Esther George spoke to attendees about the Federal Reserve Bank's economic experiment not being over and now needs to unwind the trillions of dollars used for economic stimulus after the recession hit in 2007-2009.
For more information, The KC Star covered this luncheon and the article can be found here.