Don't Delay! Get signed up to play in the lawn game tourney today!
Fairfax Festival Lawn Game Tourney – HAVE YOU SIGNED UP?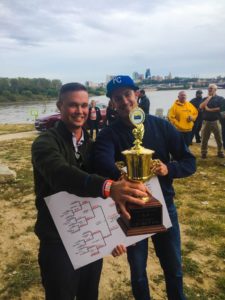 No athletic skills required! Simple games like bean bag toss, but lots of fun! Teams are made up of 2 people. Grab a co-worker, get signed up and represent your company! Deadline to sign-up is this Fri, Oct 6th. Sign-up by emailing
Rachel.Chambers@ergon.com
So far we have 21 teams signed up from: Baader Linco, Black & McDonald, ErgonArmor, CE Water Mgmt,Central Solutions, Clark Enterprises and General Motors.
Richard Weast of ABOVO won the Chief's tickets for signing up to give blood at our FIA Blood Drive! Congrats Richard! If you haven't already done so, please sign-up now! Just email Rachel Chambers at rachel.chambers@ergon.com. This is a great way to give back, especially in light of all of the tragedies going on recently.
Thank you!