Especially if you are leaving late in the day, you may have noticed the illuminated towers in the Fairfax District. Now that the electrical hook-up is complete, it really showcases the towers at night.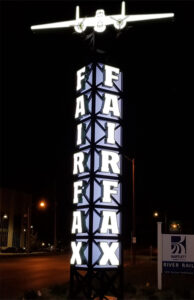 Thank you to our Fairfax Signage Committee for their time and devotion to this very special project for our district:
Joe Vaught
John Latenser – Neff Packaging
Melissa Clark – CE Distribution
Mike Martin – Capital Electric
Steve Dailey – Fairfax Drainage District
Special thanks to Rob Richardson and Melissa Sieben of the Unified Government for all of their assistance as well as Gould Evans for creating this fabulous design and Graphic House National Sign as they did an excellent job with build and install!
Finally, special thanks to Dan Desko and Jim Stella for their input on the B25-D Mitchell Bomber plane details.

Click here to learn more about this initiative that has transformed the Fairfax District and puts the B-25 back on the map in Kansas City – even at night!